It's been a long time coming, but TERA's first expansion, Fate of Arun, is now live. You can jump in now and take the action combat adventure to the new continent of Northern Arun where plenty of quests and Big Ass Monsters (BAMs) await.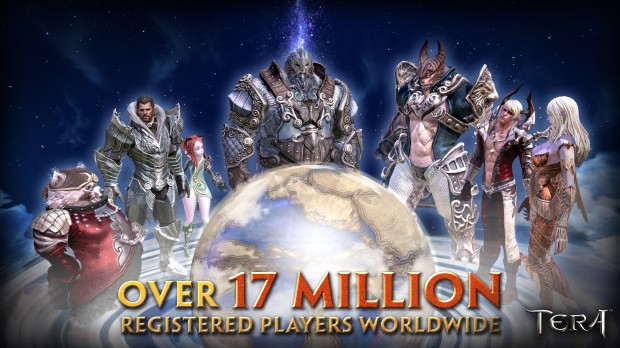 The new gameplay content features an increased level cap of 65 with all-new class skills, vast new zones and challenging dungeons—plus the unique Coliseum battleground mode, where two teams race to battle enemies in a PvE environment. The expansion also brings multiple quality-of-life gameplay improvements. Players enjoy a simplified enchanting system, the ability to fuse unused crystals into powerful new ones, and a new quest UI that streamlines leveling by allowing players to teleport right to the action, find groups, or turn in quests from any location.
The expansion release comes just in time for TERA's other big announcement. Worldwide, TERA has reached the 17 million registered players milestone. Certainly an impressive feat, even though "registered users" rarely translates into a useful metric for financial reports.
TERA Producer Patrick Sun had this to say about the milestone and the expansion launch:
ON BEHALF OF EVERYONE AT EN MASSE ENTERTAINMENT, I'D LIKE TO THANK OUR PLAYERS FOR CONTINUING TO SHOW THEIR LOVE AND SUPPORT FOR TERA. PERSONALLY, I'M MOST EXCITED TO SEE BOTH OUR HARDCORE AND RETURNING PLAYERS TAKE ON SOME OF THE MOST CHALLENGING END-GAME CONTENT IN TERA. I'LL BE ON WITH MY LEVEL 60 WARRIOR. COME JOIN US!"